Statuary Hall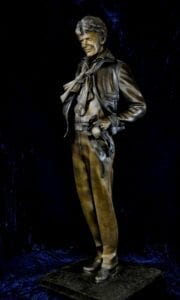 Visitors to the Amelia Earhart Hangar Museum will be greeted by a bronze statue of Amelia Earhart, created by George and Mark Lundeen; Lundeen Studios, Loveland, Colorado. The statue is a twin to the Amelia Earhart statue the Lundeen brothers have created to be placed in Statuary Hall in the United States Capital, Washington D.C. in 2022.
The Amelia statue was created to inspire confidence, courage and grace in the eyes of the public as they view and honor Kansas' most famous aviatrix. Amelia's spirit will be evident to all who view the bronze statue. She was fearless; her name synonymous with adventure. We hope her statue at the museum entrance will encourage everyone who enters to share her enthusiasm for adventure and exploration. Pictured here is a maquette of the statue.
History
The Kansas State Legislature approved a bill to allow replacement of Kansas' statue of John Ingalls in Statuary Hall with Amelia Earhart. The bill did not allocate funds for the project.  In 2013 a national committee was formed to begin the search for a qualified sculptor.  Committee members were:
Jacque Pregont, Committee Chair, Amelia Earhart Festival Coordinator
Karen Seaberg, Chair of the Amelia Earhart Festival & Chairman of the Board of MGP Ingredients, a publicly traded company
Rick Berger, Atchison, KS businessman
Lynette Long, Chair of Equal Visibility Everywhere, Washington, D.C.
Amy Kleppner, niece of Amelia Earhart
Martha Phillips, President of the Ninety-Nines: International Organization of Women Pilots
Virginia Treanor, National Women of Arts Museum, Washington, D.C.
Patricia McDonnell, Wichita Art Museum, Wichita, KS
Saralyn Reece Hardy, Spencer Art Museum, University of Kansas, Lawrence, KS
An RFP was sent nationwide with 32 proposals being received.  From that group, the committee selected 11 sculptors who were requested to send any additional information and be interviewed by phone.  The top five sculptors were then invited to send final information including a maquette if they wished.  Two sculptors chose to present in person, with the other 3 sending maquettes.  Ultimately the Lundeens were chosen to sculpt Amelia for the U.S. Capitol.  The committee and the Earhart family agreed that their maquette portrayed an outstanding image of Amelia Earhart.
The clay statue is done and ready to be cast in bronze. It has been approved by the U.S. Capitol and a date for the event will hopefully be in place soon.  Kansas' agreement with the Capitol includes our mandatory payment for the statue, its move from Colorado to the U.S. Capitol, holding a Washington event at its placing and transporting the Ingalls Statue back to Kansas to an agreed upon appropriate and honorable resting place.
The Atchison Amelia Earhart Foundation is committed to completing this project in 2022.