Decades In The Making
Amelia Earhart has been destined for the U.S. Capitol Building for more than two decades. In 1999, the Kansas State Legislature voted to replace both of its statues in the U.S. Capitol's National Statuary Hall Collection with President Dwight D. Eisenhower and Amelia Earhart. The bronze statue of Eisenhower was installed in the Capitol Rotunda in 2003, replacing former Kansas Gov. George Washington Glick. Earhart will replace the marble statue of former Kansas U.S. Senator John James Ingalls in National Statuary Hall, installed in 1905. The National Statuary Hall Collection in the United States Capitol Building is comprised of 100 statues, two sent by each of the 50 states to honor persons notable in their history. It was established by Congress in 1864, well before women had won the right to vote.
Amelia Earhart Statuary Hall Selection Committee
Although the Foundation was formed in 2016, Pregont and Seaberg have been leading the Earhart statue project since 2013, forming the Amelia Earhart Statuary Hall Selection Committee to conduct a national RFP process to select a qualified sculptor.
Committee members included:
Jacque Pregont, Committee Chair — Atchison Amelia Earhart Foundation (Board Member); Amelia Earhart Festival (Coordinator)
Karen Seaberg — Atchison Amelia Earhart Foundation (Board President); Amelia Earhart Hangar Museum (Founder and President); Atchison Amelia Earhart Festival (Chair); MGP Ingredients (Chairman of the Board)
Rick Berger — The Berger Company (CEO)
Lynette Long — Equal Visibility Everywhere (Founder and President)
Amy M. Kleppner — Niece of Amelia Earhart
Martha Phillips — The Ninety-Nines, Inc: International Organization of Women Pilots (Past President)
Virginia Treanor — National Museum of Women in the Arts (Associate Curator)
Patricia McDonnell — Wichita Art Museum (Director)
Saralyn Reece Hardy — Spencer Museum of Art at The University of Kansas (Director)
NATIONALLY RENOWNED SCULPTORS
Reviewing over 50 proposals from across the country, the committee selected nationally renowned sculptors George and Mark Lundeen to create the life-like bronze "Amelia" in their Loveland, Colorado, studios.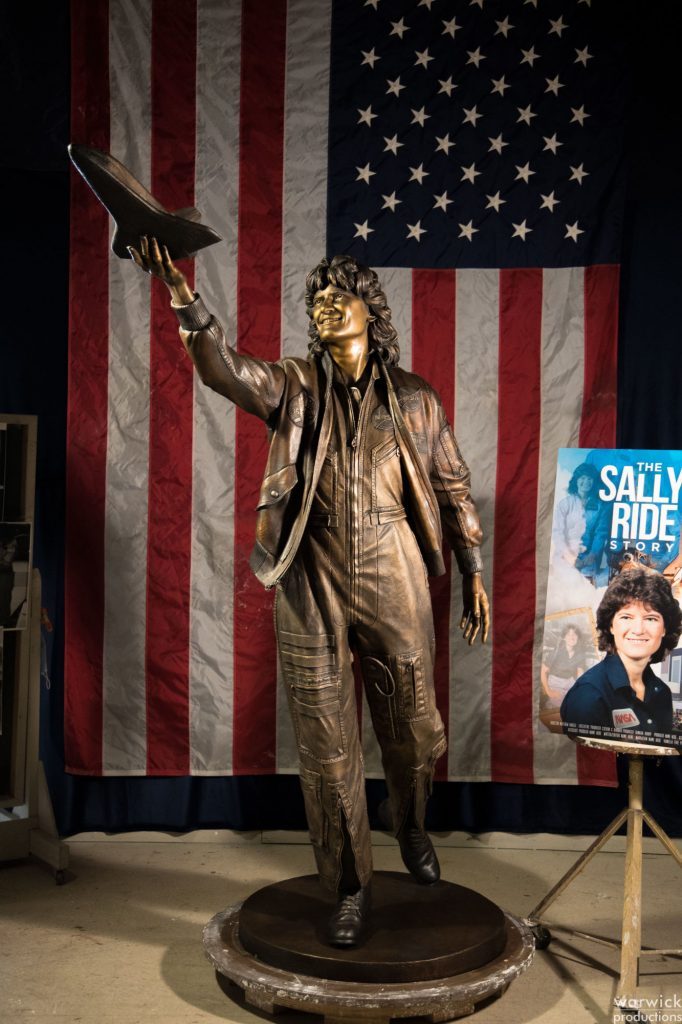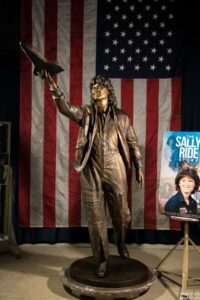 The sculptors recently completed a bronze statue of Dr. Sally Ride, the first American woman in space, that was unveiled on June 17 at the Cradle of Aviation Museum in New York. The duo, along with sculptor Joey Bainer, also created the bronze statues at Space Center Houston depicting the safe return on April 17, 1970, of the Apollo 13 astronauts Jim Lovell, Jack Swigert and Fred Haise. The Lundeen brothers also created a bronze tribute to the Apollo 11 mission at the Kennedy Space Center in Florida that depicts the first astronauts to land on the moon on July 20, 1969: Neil Armstrong, Buzz Aldrin and Michael Collins.