The Amelia Earhart Hangar Museum honors Earhart's enduring aviation legacy to defy the odds and pursue her dreams of flight and inspire future generations to imagine their own possibilities.
The Museum's centerpiece is Muriel — the world's last remaining Lockheed Electra 10-E aircraft — identical to the plane Amelia piloted on her fateful round-the-world flight. Muriel is surrounded by a state-of-the-art series of 14 STEM and historic storytelling exhibits to take visitors through Earhart's extraordinary life.
The Amelia Earhart Hangar Museum is pursuing the honor of becoming a Smithsonian Affiliate.
Exemplifying Earhart's Adventurous Spirit
To exemplify Earhart's adventurous spirit, the Museum has partnered with Dimensional Innovations (DI) — an award winning Kansas-based experiential design, build and technology firm.
The Museum is a highly engaging experience for all ages. Among the many experiences you can expect, are:
Be greeted by a CGI Amelia Earhart upon entering the Museum
Journey through Amelia Earhart's pioneering life – from growing up in Atchison to her work as mechanic, nurse, fashion designer, and other endeavors before earning world-wide fame as the first female to fly solo across the Atlantic Ocean
Thumb through a digitized version of Amelia's Lockheed Vega 5B log book
Climb aboard a full-scale replica of Muriel's cockpit to experience Amelia's perspective from her "flying laboratory"
Discover "feminine feats" from other trailblazing women in the industry - past and present
Trace technological innovations in aviation with 3-D aircraft holograms
Explore flying and the impact of celestial navigation, radio waves, and atmospheric conditions
Pilot a virtual reality recreation of Amelia's 1932 transatlantic flight mirroring obstacles she overcame to become the first female to fly solo across the Atlantic
Teacher's Guides
Amelia's enduring legacy to inspire future generations to pursue their dreams is at the core of our mission. Field trips, group tours and events at the Amelia Earhart Hangar Museum will offer educators a rare hybrid of history and STEM (science, technology, engineering and math) education.
Professionally developed Teacher's Guides will be invaluable resources for educators leading traditional, virtual and homeschool classes. Each historical storytelling exhibit and STEM activation in the Museum has been carefully designed to meet National Curriculum Standards, Kansas Curriculum Content Standards, and Missouri Standards of Learning.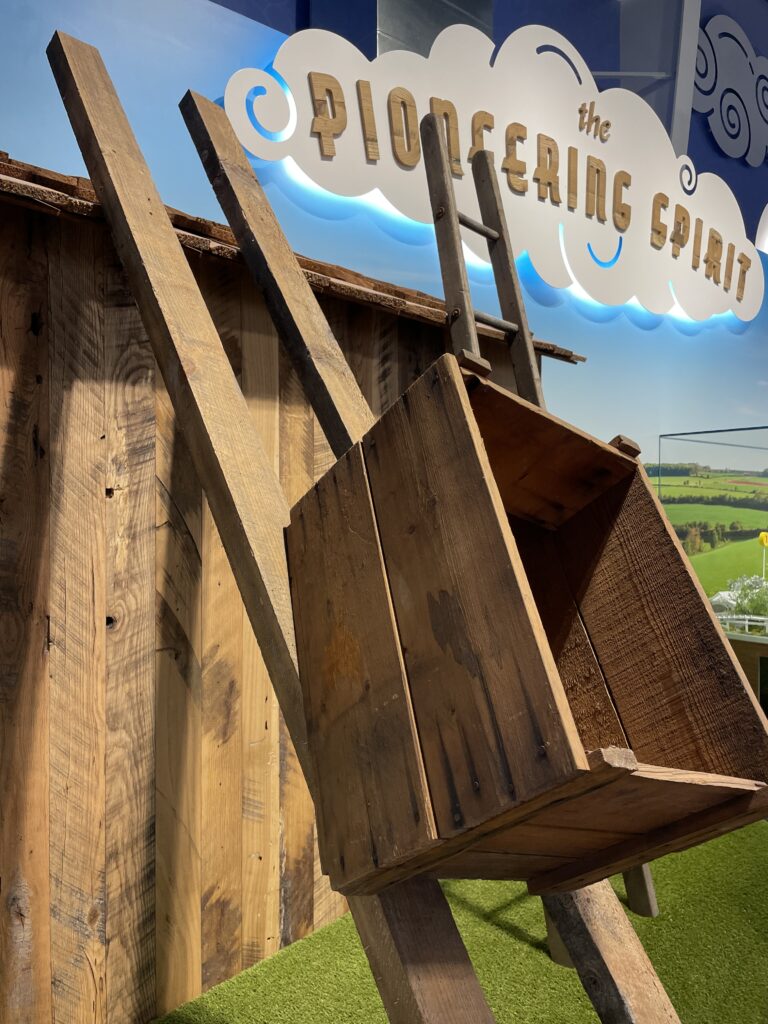 Amelia Earhart Memorial Airport
The new Museum — located at the Amelia Earhart Memorial Airport (K59) — is a popular destination for pilots and aviation enthusiasts.
Recent construction (2019) of the Museum's 17,000 square-foot hangar facility included a renovated terminal, pilot's lounge and community gathering space. The facility's Art Deco design motifs are reminiscent of Earhart's lifetime in the 1920s and1930s — one of the most innovative periods in aviation history.
The Amelia Earhart Memorial Airport — conveniently located outside the Kansas City International Airport's commercial airspace — offers fuel service, aircraft maintenance and rental, and flight instruction.