As the focal point of the new Amelia Earhart Hangar Museum, Muriel will bring Amelia's story to life and will live on to educate future generations. This first-class history and STEM museum will offer activations and exhibits telling the story of Amelia Earhart. Educational programming will focus on Kindergarten through Eighth Grade, but the museum's components will appeal to people of all ages and demographics.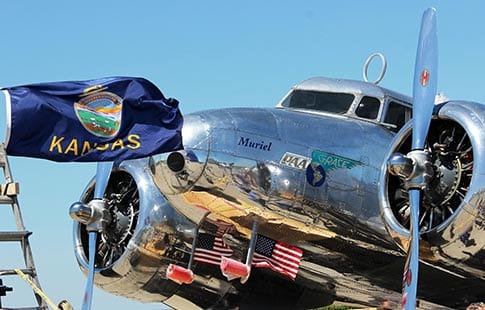 The Museum will complement the numerous other Amelia Earhart memorials and attractions in Atchison, which already draw tens of thousands of visitors to the city annually. The new hangar facility is part of the broader modernization of the Atchison Amelia Earhart Airport, greatly enhancing the airport's use and longevity.
Facility
The new, multi-purpose hangar facility will serve as a museum, airport terminal, and community gathering space. The building is styled in a 1930s motif, immediately transporting visitors back to a time of social realism, hope and art deco – and one of the most innovative periods in aviation history. The Hangar Museum contracted with Al J. Mueller for the design-build construction of a pre-engineered, 16,800 square-foot metal building that will house a museum, hangar space, viewing mezzanine, lobby, storage/prep bay, offices, pilots' lounge, conference room and community room. Muriel is visible to all airport traffic and facility visitors, even outside the museum's hours of operation.
The facility is a much-needed upgrade to the city's airport. Already a highly-desirable and cost-effective mid-continent airport, the Atchison Amelia Earhart Airport offers pilots a convenient location outside of KCI's commercial airspace.
The newly constructed airport terminal continues to offer its full range of services including fuel service, aircraft maintenance and rental, flight instruction and planning stations, wifi, vending and restrooms. Relocated fuel tanks and a more user-friendly facility has increased recreational and business flyers, medical transport, law enforcement and agricultural aircraft.
The Project
The Amelia Earhart Hangar Museum is committed to establishing and maintaining partnerships with other civic, business, government and educational entities to make it more successful in fulfilling its mission. Its Board of Directors is investing in significant, professionally-facilitated exploration and planning efforts focused on design and construction, exhibits and programming, operations and sustainability and fundraising feasibility of multiple sources including public and private investment.
The Board of Directors is actively creating a strategic plan, master facility plan, fundraising plan and business model while identifying opportunities with development and financial partners to help support its goals. It has contracted with Dimensional Innovations out of Merriam, Kansas to complete a five-phase exhibit and activation build plan, with a tentative install in 2022.
The Board of Directors has evaluated multiple revenue streams such as admission income, curriculum and resource materials, memberships, field trips, space rental, merchandise sales, philanthropy and an endowment to ensure long-term sustainability.
Phase 1
Bring Muriel Home and Build the Hangar
Ladd Seaberg – Atchison businessman, civic leader, Board member, philanthropist, adventurer, pilot and beloved family man – held a fascination with Amelia Earhart. Ladd loved his hometown and worked tirelessly to sustain and improve his community. Ladd's vision to bring Muriel home to Atchison was achieved in 2016 when the Foundation adopted the aircraft.
As the focal point of the new Amelia Earhart Hangar Museum, Muriel, named in honor of Amelia's sister Muriel, will bring Amelia's story to life and will live on to educate future generations.
Phase 2
Build the Museum
With the Hangar Museum built, the next step in our vision is to build the exhibits and have inspiration come alive. The Amelia Earhart Hangar Museum will encourage young minds to achieve the seemingly impossible. The Hangar Museum plans offer: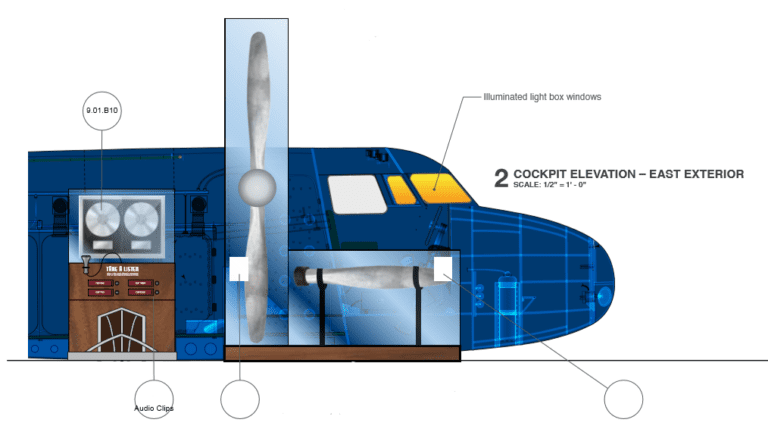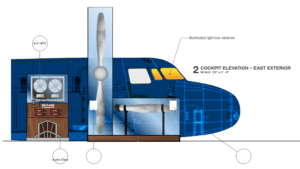 Thirteen interactive exhibits and activations
Virtual Reality flight simulator
Scale model of Muriel's cockpit
Historic correspondence and collectibles that have shaped the history of flight
Large collection of Amelia Earhart artifacts
Phase 3
Spread our Wings and Take Flight
Exhibits and activations are slated to be installed and open to the public in 2022. Until then, the Hangar Museum is open by appointment only with masks required.
In the spirit of dreaming big, our hope is to bring the wonder and educational opportunities to children and classrooms around the country. Technology has connected us all and made it possible for our global community to teach and learn from each other.
Working with partners in education, technology and industry we have dreams of bringing the pioneering spirit of Amelia to the hearts of children far and wide. We hope to inspire the next generation of pioneers to dream big and imagine the impossible.