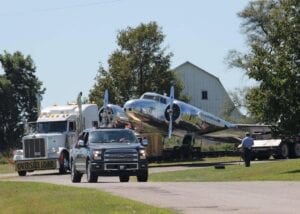 One of only 14 ever made and the last surviving Lockheed Electra 10-E airplane, Muriel is identical to the plane flown by Amelia Earhart on her fateful journey around the world. Named after Amelia Earhart's younger sister, Grace Muriel Earhart Morrissey, Muriel carries on the legacy of both Earhart sisters.
Muriel has had many owners and lived many places prior to her final homecoming. Delivered on December 6, 1935 to Pan American Supply Corporation, Muriel was transferred and operated by a PAA subsidiary in Brazil and later taken over by a Brazilian national airline. This time in South America prevented Muriel from being impressed and modified by the U.S. Army Air Forces during World War II.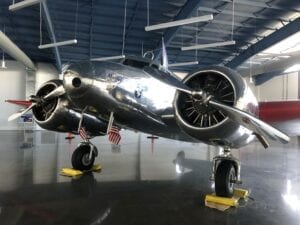 In the mid-1950s, the aircraft was transferred stateside to Provincetown Boston Airways and flew Cape Cod-Boston-New York routes. In early 1970, Muriel was sold to Zephyrhills Parachute Center in Florida, and was transferred six-and-half years later to Vikings of Denmark Inc. and operated by Raeford Parachute Center in North Carolina. Three years later, Muriel was purchased and stored at Wings and Wheels Museum in Orlando, Florida, where she ended up tucked behind the museum to rot. But this was really the beginning of Muriel's most important journey.
Bringing Muriel Home
Ladd Seaberg – Atchison businessman, civic leader, Board member, philanthropist, adventurer, pilot and beloved family man – also held a fascination with Amelia Earhart. Ladd loved his hometown and worked tirelessly to sustain and improve his community. Ladd was a founder and Chairman of the Atchison Area Economic Development Council, a longtime member of the Board of Directors of the Amelia Earhart Birthplace Museum and Atchison County Historical Society and had been a member and chairman of the Atchison Area Chamber of Commerce Board. He spearheaded and collaborated on several celebrations and activities in honor of Atchison's most famous resident.
While helping plan Atchison's celebration for the centennial of Amelia Earhart's birth, Ladd learned about the now restored Muriel and aspired to bring this representation of Amelia's story to Atchison. Ladd's vision was clear: bring Muriel "home" to Atchison – where Amelia's legacy is alive and well and attracts admirers from around the world.
In 2016, the Atchison Amelia Earhart Foundation adopted this beloved plane. After weeks of meticulously dismantling and preparing the plane for her overland adventure, a cavalcade of escorts guided Muriel during her 18-day, 1,500-mile journey home from her hangar in El Cajon, California to Atchison, Kansas.
It is here, in Atchison – where the legacy of Amelia Earhart will never die – that the hopes and dreams of three remarkable, historic individuals unite into one vision: to educate, inspire and empower all generations in the pursuit of flight.
Never interrupt someone doing something you said couldn't be done.
-Amelia Earhart