The Atchison Amelia Earhart Foundation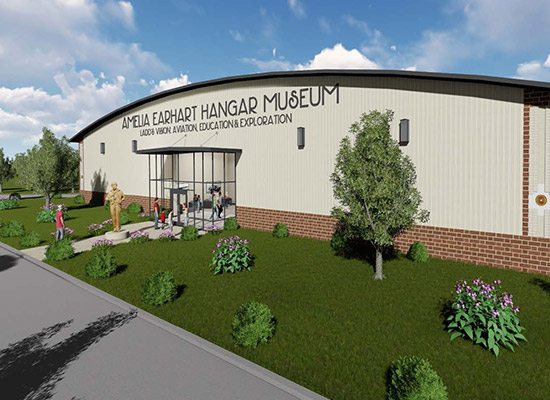 In the legacy of famed aviatrix Amelia Earhart, the Atchison Amelia Earhart Foundation exists to educate, inspire and empower all generations in the pursuit of flight. In the summer of 2016, the Foundation acquired Muriel, the last remaining Lockheed Electra 10-E aircraft in the world – the exact same model aircraft Amelia flew on her final, fateful flight around the world.
The Foundation's vision is robust: to develop an aviation museum within the Atchison Amelia Earhart Airport to showcase Muriel while creating an educational and visitor experience that honors the accomplishments of Amelia Earhart. The Amelia Earhart Hangar Museum will encourage young minds to achieve the seemingly impossible while serving as an economic development initiative that will enhance the vibrant culture, commerce and entertainment Atchison currently offers.
The Foundation is embarking upon a $14,000,000 fundraising effort to design, build and manage a brand-new hangar facility to preserve Muriel and other items that tell Amelia Earhart's story, provide exhibits and experiential programming that will serve as educational and tourism attractions and modernize the current Atchison airport to increase its operational efficiency and use. To date, the Foundation has raised almost $8,125,000 towards this effort.
The Foundation is a 501c3, FEIN number 81-2950737.
Foundation Board Members
President: Karen Seaberg, Chairman of the Board of MGP; Amelia Earhart Festival Chair
Vice President: Reed Berger, COO, Berger Company, Atchison, KS
Treasurer: Jacque Pregont, Amelia Earhart Festival Coordinator
Secretary: Lori Mingus, Freelance Graphic Designer, Lawrence, KS
Board Member: Brieannon Simmons, Kansas City, KS Businesswoman