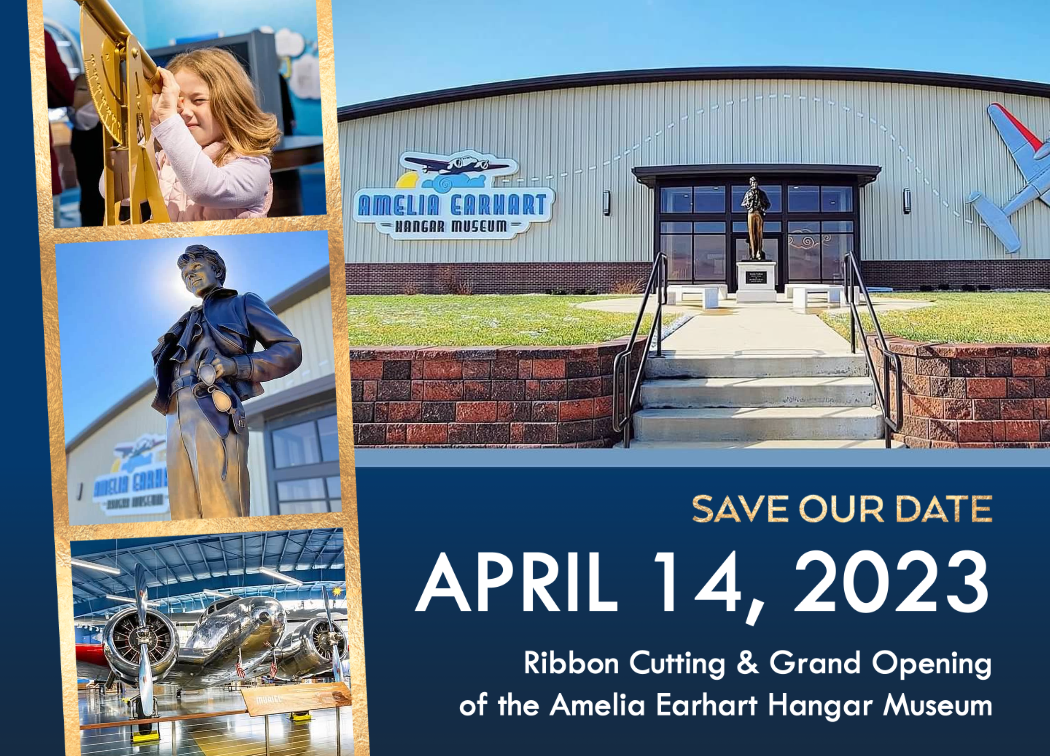 The Atchison Amelia Earhart Foundation today announced the grand opening of the new Amelia Earhart Hangar Museum is set for Friday, April 14, 2023. Located at the Amelia Earhart Memorial Airport (K59) in Atchison, Kan. — birthplace of the world-renowned aviator who became the first woman to fly solo across the Atlantic Ocean — the Museum will become the first museum to blend STEM and historical storytelling to celebrate Earhart's world-renowned legacy as a trailblazing aviator and innovator. More details about the Museum's grand opening will be announced at a later date.
"It has been a great adventure to build this state-of-the-art museum worthy of Amelia Earhart's legacy in her Atchison, Kansas, hometown," said Karen Seaberg, founder and president of the Atchison Amelia Earhart Foundation. "We look forward to celebrating the grand opening on April 14 when the new Museum will bring Amelia's extraordinary story to life while inspiring visitors to boldly pursue their own dreams."
The Amelia Earhart Hangar Museum will offer a rare blend of historical storytelling and interactive STEM exhibits that surround the Museum's centerpiece: "Muriel" — the world's last remaining Lockheed Electra 10-E. Named after Earhart's younger sister, Grace Muriel Earhart Morrissey, "Muriel" is identical to the plane Earhart flew on her final flight around the world.
"As the hometown to the one of the world's most admired women, the City of Atchison is proudly looking forward to the grand opening of the new Amelia Earhart Hangar Museum that will become a popular destination — particularly for families, tourists, educators, students and aviators," said Atchison Mayor Lisa Moody. "With the Museum's unique location at the Amelia Earhart Memorial Airport, we look forward to welcoming visitors to Atchison from across the Midwest, the U.S and around the world."
The Amelia Earhart Hangar Museum is designed in partnership with Dimensional Innovations (DI), an award-winning, Kansas-based experience design firm. Each exhibit is carefully outfitted to meet National Curriculum Standards, Kansas Curriculum Content Standards, and Missouri Standards of Learning. Professionally developed Teacher Guides are available.
"The Museum has been uniquely designed to reflect Amelia's fearless spirit and celebrate her legacy of innovation," said Jacque Pregont, Atchison Amelia Earhart Foundation board member. "Visitors will journey through Amelia's courageous life of defying odds, overcoming social and scientific obstacles, and ultimately using her achievements to encourage others to realize new possibilities."
Following the grand opening, the Amelia Earhart Hangar Museum will apply to become an Affiliate of the Smithsonian Institution. More about Museum is available at http://www.AmeliaEarhartHangarMuseum.org or follow "AEHangarMuseum" on Facebook,Instagram and Twitter.
About the Atchison Amelia Earhart Foundation
The Atchison Amelia Earhart Foundation was formed in 2016 to honor the world-renowned aviation legacy of Amelia Earhart — whose dreams of flying began in her Atchison, Kan., hometown. The Foundation is dedicated to inspiring future aviation and aerospace leaders through the story of Amelia Earhart's tenacity and determination to overcome obstacles on her journey to become the first woman to fly solo across the Atlantic Ocean. In addition to leading the capital campaign to build the Amelia Earhart Hangar Museum, the Foundation led the effort to bring a new bronze statue of Amelia Earhart to the U.S. Capitol in Washington, D.C. to represent the State of Kansas in National Statuary Hall; the Foundation was the sole funder. A "twin" bronze statue will greet visitors at the entrance of the new Amelia Earhart Hangar Museum when it opens on April 14, 2023. The Foundation is a 501(c)(3). To learn more about the new Amelia Earhart Hangar Museum, visit http://www.AmeliaEarhartHangarMuseum.org