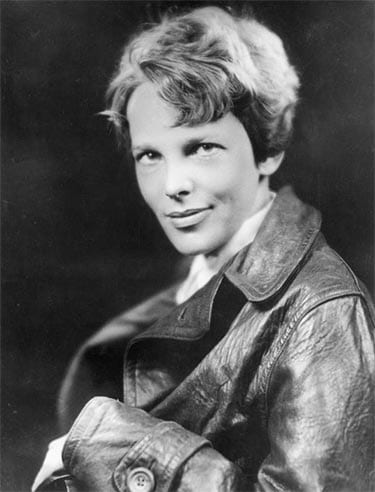 Amelia Earhart has captivated hearts and minds for decades. Her personal life, professional career and mysterious fate have timeless appeal. While her accomplishments as a pilot brought great acclaim and continue to inspire those who fly, Amelia's vision, conviction and achievements in creating opportunities for women leaves an equal impression.
Amelia Earhart was born on July 24, 1897 in Atchison, Kansas, where she spent much of her early childhood in the care of her maternal grandparents and in the constant companionship of her sister Muriel. It was in Atchison that Amelia developed her insatiable appetite for adventure and began her quest to prove women were as valuable as men. While defying social norms that expected young girls to always behave in a ladylike fashion, Amelia and her sister unabashedly attempted activities reserved for boys. Whether playing sports, inventing games, hunting rats or "belly-slamming" her sled downhill, the resulting bumps, scrapes, dirt and torn dresses affirmed Amelia as a tomboy, but reinforced her lifelong yearning that "women do for themselves what men have already done."
Amelia was 10 when she first encountered an airplane at a state fair. Dismissing it as a "thing of rusty wire and wood" and not looking "at all interesting," her opinion would significantly change a decade later.
Amelia lived in several cities, including Chicago, where she attended Hyde Park High School. Amelia had always shown an aptitude for science and sports in school, but her parents' rocky relationship and absentee father instilled an independence in Amelia, and a resistance to others "taking care" of her. A visit to her sister Muriel in Toronto during World War I first exposed Amelia to wounded soldiers – many of whom were pilots – and she became a volunteer nurse's aide for the Red Cross. Amelia began medical studies at Columbia University, but relocated to California to support her parents. It was there she became seriously interested in aviation, and realized her destiny during her first plane ride in 1920: "By the time I had got two or three hundred feet off the ground, I knew I had to fly."
Amelia took her first flying lesson in 1921 and six months later, with financial assistance from her mother and sister, bought her first plane: a second-hand, bright yellow, two-seater Kinner Airster she christened "The Canary." In the following year, Amelia set her first women's flying record in that plane, when she rose to an altitude of 14,000 feet. Less than seven months later, Amelia became the 16th woman issued a pilot's license by the world governing body for aeronautics. Limited finances later forced Amelia to sell her beloved plane.
Following her parents' divorce, Amelia returned east with her mother, where she worked as a teacher, and later a social worker in Boston. She joined the Boston Chapter of the American Aeronautical Society, worked as a sales rep for Kinner and wrote articles promoting flying in a local paper. By then a local celebrity, Amelia caught the attention of a group planning to send a woman pilot across the Atlantic, similar to Charles Lindbergh's solo flight from New York to Paris in 1927. Project coordinators included publisher George P. Putnam, whom Amelia would later marry while retaining her independence. She referred to the marriage as a "partnership" with "dual control."
In 1928, Amelia was selected to be the first woman on a transatlantic flight, merely as a passenger. She did not pilot the plane once during the 20-hour and 40-minute flight, but foreshadowed her destiny by stating "…maybe someday I'll try it alone." Before Amelia's landmark trip, three pilots had already perished trying to be that first woman to fly across the Atlantic.
I want to do it because I want to do it. Women must try to do things as men have tried. When they fail, their failure must be but a challenge to others.
-Amelia Earhart
From that point on, flying was the focal point of Amelia's life. She authored books and articles, lectured, promoted commercial air travel and designed women's fashion "for those who live actively." She helped establish and was the first president of the Ninety-Nines – an organization of female pilots advancing the cause of women in aviation. The Ninety-Nines has grown into an international organization of licensed women pilots with nearly 5,000 members from 35 countries, and is committed to advancing the aviation and aerospace fields through education, scholarships and mutual support.
Amelia became a female career consultant on the faculty of Purdue University and served as a technical consultant to its Department of Aeronautics. The University helped Amelia purchase a 1935 Lockheed Electra 10-E plane, in which she planned to become the first person to circumnavigate the globe around the equator.
Amelia set out to fulfill her ultimate dream on June 1, 1937. On July 2, over the Pacific Ocean and after more than 22,000 miles and nearly two-thirds of her historic journey, Amelia vanished. While the fate of Amelia remains the subject of unending theories, the power of her legacy is without question.
Amelia Earhart's fame is punctuated by numerous records and accolades: