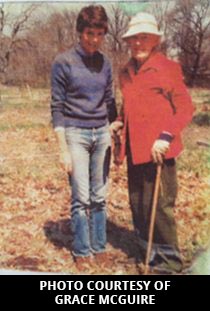 Scottish-born Grace McGuire was four years old when she saw her first airplane, triggering a lifelong love of flying. As a young girl growing up in Northern New Jersey, Grace was quite opposite of other girls her age. She was a tomboy who preferred spending her time around aircraft and aviators, and also bore an uncanny resemblance to Amelia Earhart.
Constant comparisons to the famous figure filled Grace with a sense of intrigue about Amelia – and created a lifelong bond. Grace fell in love with flying, earned her pilots license by the age of 20 and began her career as a flight instructor at 23. Captivated by Earhart's story, Grace reached out to those who knew the aviator. She ultimately met Amelia's sister, Grace Muriel Earhart Morrissey, at the Wings Club in New York City, the oldest aviation club in the world. Grace and Muriel became close friends and traveling companions.
Grace became determined to recreate Amelia's flight around the world. Several pilots had successfully emulated Amelia's trip, but never an exact duplication with the same type of aircraft, equipment and crew. For two years, Grace searched for a 1935 Lockheed Electra L-l0E, and finally found her soul mate amongst the contents of a museum in Florida, waiting to be sold by Christie's Auction House. The deterioration of the plane precluded her from being in the auction – she was waiting to be cut up and sold for scrap.

Despite the plane's condition, Grace fell in love at first sight and purchased the plane, not realizing she had just acquired the last one of its kind in the world. She named the L-10E Muriel, after Amelia's sister and her dear friend, Grace Muriel Earhart Morrissey.

Photo courtesy of Grace McGuire
Decide…whether or not the goal is worth the risks involved. If it is, stop worrying…
-Amelia Earhart
Grace spent the next 30 years and thousands of dollars working alongside countless volunteers and supporters – including two of Amelia's mechanics, Ward Oakly and Eddie Gorsky – to painstakingly restore Muriel to match Amelia's plane. Chronic illness and a series of logistical setbacks ultimately kept Grace from achieving her dream of recreating Amelia's flight – but Grace's indomitable spirit opened doors to making someone else's dream a reality.